24/7 dispatch is available at (608) 242-2000
Email Addresses
Immediate needs regarding a placed order:
Receipts and account management:
All other inquiries use contact form below or email to: Please note: This email is only checked during business hours and will not be able to meet time-sensitive needs. Please use the dispatch contact email above for immediate questions about orders.
Deliveries or Lost & Found Pick-ups
2458 Pennsylvania Ave
Madison, WI 53704
Mailing Address
Union Cab of Madison Cooperative
P.O. Box 8305
Madison, WI 53708-8305
For media inquires, please contact our Sales & Marketing Representative at marketing@unioncab.com
Directory
Need a cab? Call (608)242-2000
Operations Manager (608) 242-2007
Business Office (608) 242-2010
Dispatch Office (608) 242-2020
Business Manager (608) 242-2018
Board President (608) 242-2001
Sales & Marketing (608) 242-2021
Hiring (608) 242-2005
Human Resources (608) 242-2014
Shop Mechanics (608) 242-2038
Technical Support ( 608) 242-8207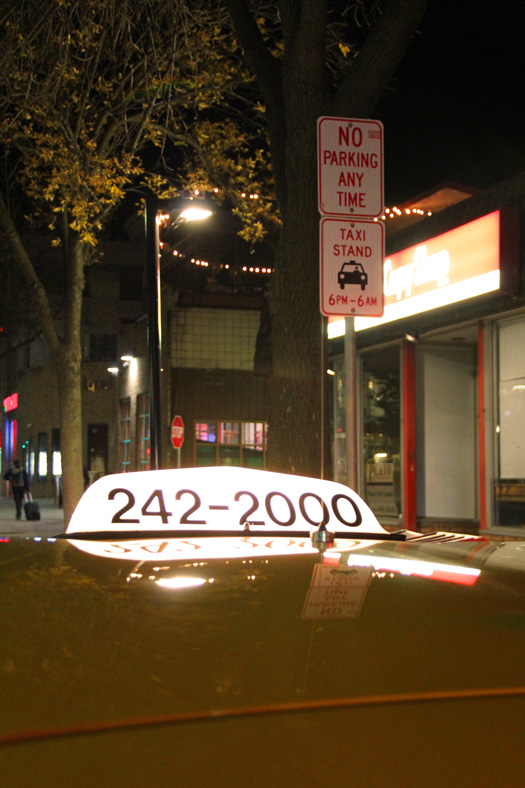 Taxi Speak
As with any profession, we have our own vocabulary to increase efficiency. Most of our words are developed from the history of our community. The following is a glossary of Taxi Speak.
Time Calls - A taxi reservation made an hour or more in advance. Be sure to allow enough time for both regular travel time plus any possible delays (trains, accidents ahead, weather, construction). Our dispatch office can help suggest a time if you are unsure. This is especially important with rides to the airport or bus station. We don't want you to miss your plane!
Will Calls - This is a cab reservation made for a " to be determined " time in the future. All the details of the reservation are set and saved awaiting your call when you're ready to go! Great for return trips from a doctor's visit, a trip to the voting booth, or a third party arrangement for traveling loved ones or colleagues. Just call 242-2000 and say, "I'm calling to activate the will call order for [name or pick up address]."
Bone Zone
Speedway Rd which runs between two cemeteries on the west side of Madison.
Spaghetti Corners
The corner of Park St. and Regent St. The heart of the old Greenbush neighborhood, which was a thriving community of Italian Americans until city destroyed it in the early 60's.
Full House Corners
The intersection of Hwys 51 and 151 (Get it?)
EGOR
East Gorham St.
O'Sheridan Illusion / Miracle on O'Sheridan
The Capitol appears to get smaller & further away as you approach from this two block street. Best viewed from the passenger seat so you don't crash into the curb.
Schenk's Corners
The intersection of Winnebago and Atwood Avenue. Named after the former Schenk General Store, now known as Schenk Huegel Co.
Union Corners
Union St. and East Washington Ave. Home to the Malt House (formerly Union House) tavern. Madison's oldest tavern and the last stop for Union soldiers before they left to fight the South in the Civil War.